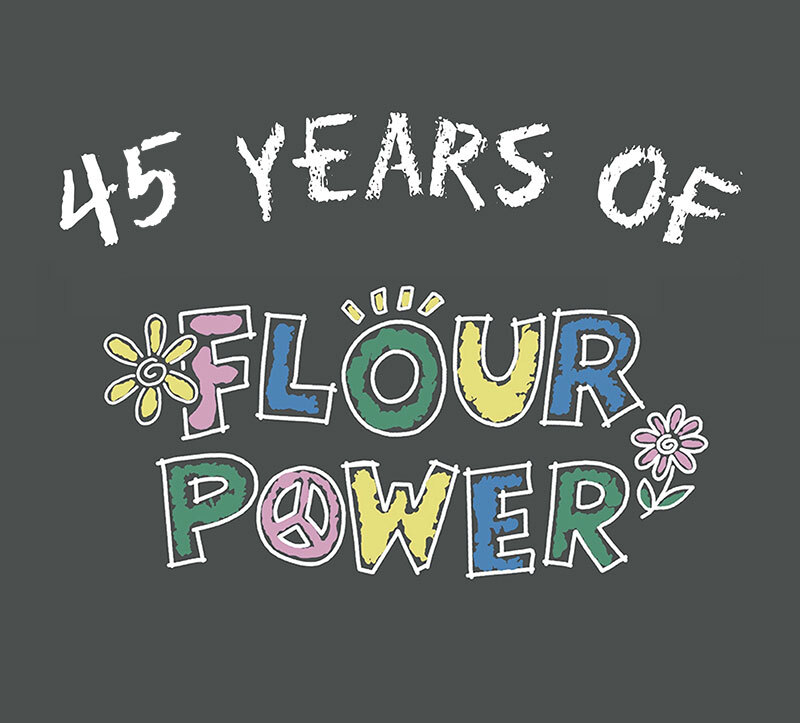 2016 is Uprising Breads' 45th Anniversary. To mark the occasion, we want stories… your stories.
Tell us about your favourite Uprising Breads moment for a chance to win free bread for a year; whether you have been coming here for years or just found us last week.
After 45 years in business at the same location, we're sure there are some great stories out there. That's nearly three generations of customers, four major renovations, five different espresso machines and well over 2.5 million muffins baked and eaten.
Our first winner is Barb and her story of her Pekinese named Pugsy:
We have been coming here since we moved to the area in 1992. No great adventures but have met interesting people. My Pekinese, Pugsy, and I would often come on summer afternoons She would sit on a chair outside and enjoy her tidbits, me, my coffee. No kids, so great doggie/human bonding time … and of coarse she was spoiled … everyone had to pat her and she was the Queen. I continue to look forward to coming for coffee and goodies each time we shop on the drive.
More Memories from our 45th Year
I've always loved your bread and can still remember my very first strawberry cinnamon bun. It was pure heaven. But my best memory is a recent one – I was having a really difficult day and ended up at the bakery in search of peace and a coffee. But I had left the house in a hurry and only brought a handful of change with me, so couldn't afford a latte and a baked good. As I sat outside in tears (because of my bad day) one of the staff came outside with a steaming hot latte and a kind smile. Honestly that one kindness helped me to remember that not everything is hard and there is hope.
Sarah
I've worked at Britannia Secondary School for almost 20 years and have been going to Uprising Breads almost weekly for their yummy cheese croissants, 3-cheese bread, cookies, delicious soups, salads and sandwiches! Always fresh and delicious and the staff very friendly and helpful. Many of our students have worked at the Bakery Café over the years. The owner's son even attended Britannia and was an awesome, energetic student! When we were on strike, many staff would "make a run" for coffee and goodies for the picket line. Britannia Staff and Students have been a fixture in the daily line ups at this fine Bakery and will continue to do so! Thank you Don and Uprising staff! You're Delicious! Congratulations!
Elizabeth
When I was a kid, maybe 5 or 6 years old, I used to go to my grandfathers shop on Venables (The Patternmaker). Every time I spent the day with him he would take me to Uprising Breads for soup and a sandwich (and sometimes a treat!). As I got older I would work in his shop and we would never go any where but Uprising, we both loved it so much.
Now, over 20 years later, long after his shop closed down, I still come and bring my friends. I always remember my grandfather Spog (Malcolm Sparrow) and order the same soup and sandwich I always did. I'm sure some people would remember him as the jolly bald Australian guy with the big beard – always with a smile on his face!
Thank you for all the memories & thank you for continuing to make such delicious food! Congratulations on 40 years of business!
xo
Dylan
I had the experience of working in that special place, I worked night shift and baked a lot oof bread, bagels, all kind of tasty food, but the thing I most remember is the beautiful people that worked there with me, I was in Canada 1978 and from Chile I send you the biggest hug.
~ Carmen
It's the Irish Soda Bread ( 4 for the price of 3 on Wednesdays ) that keeps me coming in.
Frank
I've been coming here for 34 years . My daughter and I once lived around the corner and as a treat we would come by to get coffee or something after she had been particularly good. She used to call it the Uppie Store
Bella
My Food Blogger friend gave me a list called "Hidden Gems Vancouver" when I first came to town a few years ago. Uprising Breads Bakery was on it … and it is … (although not so hidden)
Anonymous
Happy 40th to my "go to" coffee place! Uprising Breads!
I am an active member of the Kettle Friendship Society and Uprising Breads has been kindly donating food and sweet treats to the less fortunate and especially people who suffer with mental health issues at the Kettle.
One of the main reasons I go to UB, is the nice staff and owner Don, who always has a nice friendly smiling face for me when I arrive in the mornings!
So hats off to the Uprising and may you have another 40 years and beyond!
Denis
Uprising Breads has become a go to place when we come in to Vancouver from the suburbs. Sometimes we pretend that we have to be in the neighbourhood so we stop in for some delicious treats and take a bag full of goodies home with us. On a nice day your outside patio is lovely.
Nellie
I used to come in the 'the big city' on weekend when I was going to high school in the Fraser Valley This was back in the early 90's (makes me feel old). Even then I loved Commercial drive, and would have my Mom drop me off at Broadway or 1st ave. I would wander down The Drive exploring shops, and end the afternoon with a sweet treat at Uprising Breads. Now I live a few blocks away from the store, and couldn't be happier with my neighbourhood."
"Our hockey team has been overwhelming your sidewalk patio every Tuesday summer morning for 21 seasons… I mean years. The post-game "coffee and a muffin" has almost… almost… become more anticipated than our actual hockey game. Some of us still think we'll get our names on the Stanley Cup. If we do, we'll make sure we include Uprising Breads Bakery.
GM, TMHL
Uprising Breads became a staple of mine when I moved to East Vancouver. Everything from the Cracked Wheat and Sunflower Bread to the Coffee Cake came home with me from the bakery after work and usually found it's way into my lunch the next day.
Robert
Our family has been converts to Uprising Breads since we moved to Venables Street ten years ago – it is ALL about the bread! My husband's favourite is Grainful, I opt for Finnish.
My usual ritual is a short walk down on Saturday mornings to pick out a loaf – and of course eat a slice on the way home – my reward for being the shopper!
KEEP CALM AND BAKE ON!!!!
Phil & Chris
I've been going to uprising since I was an ornery kid being dragged to swimming lessons, but my stand-out association with the bakery is definitely from my grade 12 year at Britannia. Just about every act of truancy was granted absolution when I presented my educators with a hot coffee or baked treat from your fine establishment.
…That may sound terrible, but it sure made my last year of grade school as a delinquent little loafer a super enjoyable one. And considering the fact that that I'm not an illiterate vagrant now, I'd count that as a net win.
Thanks for cutting me some serious slack, Uprising!
Ali
I've been coming to Uprising since I was 15. When I was very poor and cleaning houses for a living I still spent a goodly % of my daily income here because it lifted my moral to eat good things in a pleasant atmosphere. When I was 35, 20 years after I first started coming Don noticed I was pregnant and offered me and my baby a free lunch when he is born. My son is now 17 and we live next door t o Uprising Breads Cafe. I love being able to tell him Uprising gave him his first "Free Lunch"
Rachel
I remember when Uprising Bakery generously donated some of their delicious goodies to a charity event I was involved in. Very much appreciated. Always supportive of the local community.
Kitty
I worked at Uprising in the eighties and early nineties. The original space was smaller so the baking took place up front in full view of the tiny retail area. This meant customers got to see our mistakes. A view memorable ones:
Janet was mixing a large batch of cinnamon bun filling. The recipe card called for 9 ounces of cinnamon. She put in 9 pounds! When she turned on the mixer, the baking area was covered in cinnamon.
I was wheeling a full rack of cookies up the ramp from the back. A wheel caught and the rack tipped and spilled dozens and dozens of cookies on the floor in full view of the customers. We got a garbage can and filled it with the cookies, making a public show of it (we did actually throw them out).
Hughe
I worked at the bakery when I was a teenager. I remember making 80 dozen oatmeal chocolate chip cookies with a ice cream scoop. I think my wrist can still feel it. My favorite memory is of a wonderful older gentlemen named Mr Sherman he came in the bakery on Friday afternoons for his 4 bran muffins and always had a smile. I also worked at the warehouse for a little while and loved filling the orders with the with the power jack. The other thing I have fond memories of was going with my dad, Ron to do deliveries in the van. I don't know if I can make it to the reunion but l hope it is a fun time for everyone.
Margo McKinlay (Hansen)
Few people may remember that the bakery's original Reid oven and other production areas were at the front of the bakery so customers could see us bake (maybe not a great idea in retrospect).  
Many of our first regular customers were the workers from the machine shop down the street who came daily on their coffee break. But we also served the staff from the Unemployment Insurance Office around the corner on Hastings. This was a bit problematic, since early on the bakery was not yet doing well enough to pay ourselves, and the co-op members were mostly collecting UI (as it was called then). At the time we probably would have been considered hippies who were just scamming the system, but later it became possible to collect your Employment Insurance in a lump sum and apply it to starting a business. So really, we were social entrepreneurs and policy innovators.
Dana Weber, Founding Member, CRS Workers' Co-op
I love the scones. Always get a coffee and a scone and sit outside to watch life go by.
A great place to have a snack on a bike ride. Perfect location too."
John